November around the 11th each year in Paris is classically devoted to the French annual meeting of the French Orthopaedic Society. OrthoWave was present there, of course, with its first booth at the exhibition located at famous Palais des Congrès. We had pleasure to meet with our French customers indeed, but also many Belgian and Swiss surgeons and some famous persons, such as Professor Ivan R. Ayerza from Buenos Aires, Presidente Asociacion Argentina de Ortopedia y Traumatologia…
I remember I have been invited some years ago at the Chilean Orthopaedic Association to present my works and results about HA coated Hip and Knee Arthroplasty, and during this congress, my Chilean colleagues of the Chilean board were extremely interested in OrthoWave facilities. Similarly, I have spent a few days in Rio de Janeiro to perform live surgeries, and OrthoWave had been extremely well regarded during sidekick demonstrations. Maybe such opportunities would arise later on in Argentina, being said that we are currently working on a Spanish version of this software suite…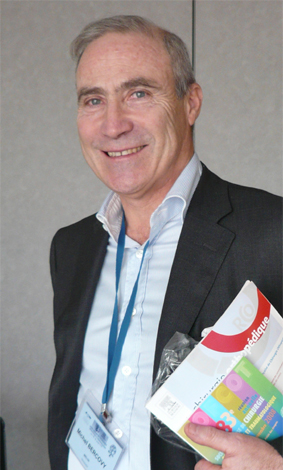 Numerous lectures presented at this Congress referred to OrthoWave as the Outcome Study tool used for carrying out the studies. We would like to address all these authors for them to send us an abstract of their presentation, or the whole slide show as well: we will be proud and honored to publish them on this blog and this would give opportunity to exchange comments and share information about them through the related forum topics…In particular, Dr Michel Bercovy presented two very interesting Orthowave-based lectures entitled "Does the improved range of motion obtained after TKR meet Patients' expectations?" and "What factors can impact on post operative range of motion after TKR?". Similarly Dr Olivier Guingand had a presentation carried out with OrthoWave about: " What are the objective predictors of less targets results (any complication excluded) after TKR. Based upon a retrospective multicenter study of 831 Knee Prostheses at a five-year evaluation". As a matter of fact, OrthoWave has been originally designed for publishing and reporting Arthroplasty results, and it is always great to see this outcome study tool widely used for lectures and articles in the Literature… Let's take the opportunity to insist on the very strict specs followed by OrthoWave regarding privacy and FDA recommendations about Health related electronic data bases, especially audit trail and secured connections to Servers, as well as the use of only validated and originally published assessment procedures.
By the way, we also had some interesting chats about futures developments with OrthoWave, and especially with representatives of the French Ankle and Foot Society, who aim to get a specific register shared between France, Belgium and Switzerland based upon Ankle prosthesis results. For sure OrthoWave can be regarded as the perfect tool for such a project, as it has been designed to easily add any development in the realm of Orthopaedics. Similarly, we would in touch soon with the French Spine Society to develop the spine module we have been often talking about… Without forgetting the shoulder replacement module which will be soon presented and released.
A last couple of words about Joint registries… The RIPO module devoted to collection of data in the north of Italy seems to work fine. Across the Channel, the NJR developers seem to be soon ready with their MDS3, which will allow OrthoWave to get connected with the UK register. No news so far from Dr Jacques Van Doren and the Belgium register overtaken by INAMI… Conversely, a decision would be taken closely with the French Sofcot and the University of Bern regarding the connection of OrthoWave to the French joint register…more to see.
… Just on my way to Lyon (France) to attend the Hip meeting "Journées lyonnaises de la Hanche" and present our results in "Hip long term 12-21 years THR results with HA implants on Young and Active Patients in Idiopathic Osteonecrosis", based upon an OrthoWave study, of course!!!